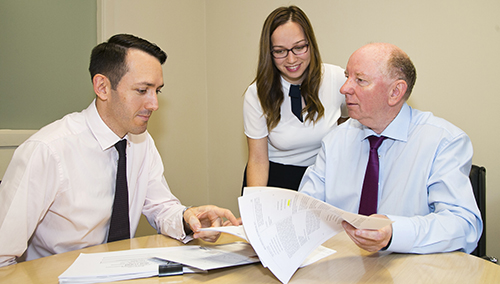 McStay Luby has a well established reputation as forensic accountant, providing investigation and expert witness services. We are instructed by legal firms, Counsel, insurers, state agencies and government departments, as well as commercial organisations.
We are experienced in working with solicitors and Counsel, to investigate, compile and de-construct financial loss claims, evaluate the financial merits of a case, manage financial discovery, assist with settlement proposals, mediation and arbitration, and provide expert evidence in Court.
We assist with negotiations with insurers, regulators and other parties to achieve the best possible settlement. Our reports and expert evidence explain complex financial matters in clear understandable terms.
INVESTIGATIONS
We investigate, report upon and provide expert evidence to assist in the recovery of misappropriated funds and other assets. We advise upon remedial measures to militate against fraud.
VALUATIONS
We carry out valuations of businesses, companies and shareholding for many purposes, including:
Legal disputes
Shareholder exit
Revenue valuation issues
Acquisition or sale of businesses
LITIGATION SUPPORT/ EXPERT WITNESS ASSIGNMENTS
We have provided evidence in a large number of High Court, Commercial Court, Arbitration and Mediation cases over many years.
We have investigated and reported upon financial loss claims in many areas, including:
Commercial disputes
Shareholder disputes
Professional negligence
Competition cases
Insurance claims including loss of profit/ consequential loss
Medical negligence claims
Regulatory investigations
Family law disputes
Insolvency investigations
Asset tracing
SAMPLE ASSIGNMENTS
Acted in high-profile High Court Action for shareholder oppression claim in a closely held company, including detailed investigation and valuation of shares;
Report on losses claimed (excess $50m ) in leading case ICDL v ECDL – following termination of international franchise;
Report and Court Evidence in Element 6 pension litigation – expert evidence on employer company's ability to pay in context of termination of Defined Benefit scheme.
Report on losses claimed for business interruption in the pharmaceutical industry
Numerous and varied reports for Plaintiffs and Defendants on personal injury claims and medical negligence actions, including catastrophic injury cases;
Opinions on liability and quantum in professional negligence cases against accountants, solicitors and other advisors;
Reports on losses claimed for breaches of warranties on sales of businesses;
Investigation on behalf of defendant bank of misuse of loan funds by plaintiffs