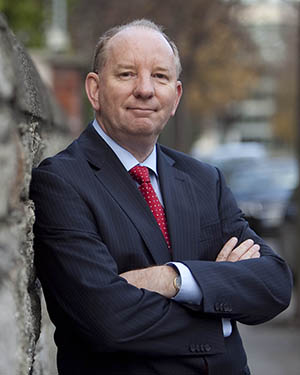 Jim has over 30 years' experience of business restructuring and insolvency in Ireland and overseas.
Jim provides restructuring advice and solutions to banks, legal firms, creditors, accountants and directors of companies in financial distress.
He works with lenders on investigating and reporting on troubled loan cases, and in subsequent workouts, and acts as Receiver for banks and bank syndicates.
He has been appointed as Administrator of insurance/reinsurance companies by the Central Bank and acts as a Court appointed Examiner and Official Liquidator.
Jim also leads the firm's litigation support/forensic accounting practice, working with leading law firms to investigate, compile and de-construct financial loss claims, and has given expert evidence in Court on many occasions.
A Chartered Accountant, he has acted as President of INSOL Europe, Director of Insol International, member of the Consultative Committee of Accountancy Bodies-Ireland Insolvency Committee. He is a licensed insolvency practitioner in Ireland and the UK.
He has spoken on restructuring and forensic accounting topics at seminars in Ireland and internationally, and been interviewed on Prime Time and other TV programmes.
Major projects – Corporate Recovery
Receiver of A-Wear Limited, high street fashion retail company.
Administrator of ESG Reinsurance Ireland & Accent Europe Insurance Co.
Liquidator of South Midland Construction Co., one of Ireland's largest utility contractors.
Liquidator of Newbridge and Rush Credit Unions – sale of Rush loan book.
Receiver of Altobridge – sale of mobile phone technology IP.
Receiver of KPNQwest Group Companies for syndicate of international banks
Receiver of The Sunday Tribune, a national newspaper
Scheme administrator for Millstream Recycling, following pork dioxin contamination crisis
SR Technics-engaged by parent company to disengage from Dublin Airport
Major projects – Forensic Accounting
Assessment of losses and business projections in high value Competition and Commercial Agents cases
Report on losses claimed ($50m) following termination of international franchise
Investigation of losses claimed by technology company in action against telecoms provider
Loss of profits investigations on behalf of state agencies, insurers and corporate litigants