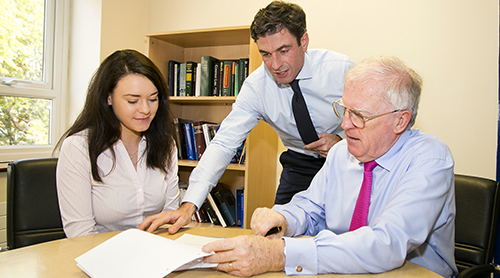 McStay Luby has established a powerful reputation as one of Ireland's leading restructuring advisory firms. Our experienced team acts for lenders, creditors, and directors of companies in financial distress. We have extensive international experience and contacts to facilitate assignments with cross-border aspects.
Brief summaries of our Restructuring services in the following areas are set out below:
Business Turnaround
Pre-Enfocement – IBRs
Examinership
Receivership
Liquidation
Insurance Sector Restructuring
Schemes of Arrangement
Personal Insolvency Services
BUSINESS TURNAROUND
We recommend early intervention where a business is experiencing financial difficulty. We work with management to identify strategies and prepare a recovery plan to enable the survival of the business which may include refinancing, sale, introduction of new investors and restructuring of financing and operations.
We adopt a hands-on approach to work with all of the affected stakeholders.
We advise directors of companies in distress on their Company Law responsibilities.
PRE-ENFORCEMENT
Our independent business reviews (IBR) for management, lenders and creditors assess the current and projected financial position of the business, and recommend strategies to maximise the prospects of survival and success.
Our services to lenders include assessment of enforcement and other options and monitoring of distressed business with inadequate in-house financial expertise.
EXAMINERSHIP
We have rescued many businesses, large and small across a diverse range of industries, through the examinership process. Efficient use of the Court protection period allows us to engage proactively with management, creditors and potential investors to maximise the prospects of survival of the refinanced business.
Some of our high profile examinerships have included:
| | | |
| --- | --- | --- |
| Druids Glen | Golf club | Rescue following receivership threat |
| CityJet | Airline | Restructuring following start-up losses; |
| International Securities Trading Corporation (ISTC) | Financial services | Restructuring of liabilities in excess of €2.8bn |
| Chorus Communications | Cable television/telecommunications company | Restructuring of liabilities in excess of €250m |
| Lark Developments | Major property developer | Restructuring of liabilities in excess of €30m |
| Smart Telecom | Broadband operator | Restructuring of liabilities in excess of €70m |
We prepare Independent Expert's Reports (IERs) required to obtain Court protection. We are engaged frequently to challenge IERs and scheme proposals by creditors.
RECEIVERSHIP
We have a long track record of delivery for financial institutions and other stakeholders, providing maximum returns for the secured creditor in a cost-efficient manner.
Our experience covers large and small companies across many business sectors. We have significant experience of trading receiverships to maximise sale value.
Our receivership cases have included:
| | | |
| --- | --- | --- |
| Sunday Tribune | National Newspaper | Marketing of Business / IP |
| A-Wear | Retail chain | Pre-pack receivership rescuing 400 jobs |
| KPNQwest | For a syndicate of international banks | Sale of internet protocol networks located throughout Europe |
| Altobridge | Sale of mobile technology platform | Appointed by Intel and a division of the World Bank |
| Heritage Golf Club | | Rescue and sale of Seve Ballesteros-designed championship golf course. |
| Laragan Developments | | Receiver of property and development business |
| J&A Barry | | Receiver of property and development business |
| Anglo Irish HQ site | | Receiver of property and development business |
| La Touche Hotel site | | Receiver of property and development business |
We act as fixed asset receiver for secured lenders, with portfolios ranging from single units to extensive commercial portfolios.
LIQUIDATION
Where companies cannot be restructured, we can advise creditors and/or directors on the appropriate liquidation procedure in the circumstances. We have acted as liquidator of numerous entities using:
Creditors voluntary liquidations
Court liquidations
Members voluntary liquidations (solvent companies)
Our experience covers a diverse industry range including aviation, construction, manufacturing, logistics and telecommunication, property, insurance, credit unions, SME businesses and numerous other sectors, including:
Court appointed Liquidator of EUJet and Transaer Airlines;
Creditors Voluntary Liquidation of Iralco, a major automotive parts supplier – sale of business and rescue of approximately 300 jobs;
Court appointed Liquidator of South Midland Construction – one of Ireland's largest utility contractors;
Rush Credit Union – sale of loan portfolio
We advise creditors faced with liquidation of a customer on their options for recovery.
We act as liquidators of solvent companies in Members' Voluntary Liquidations to expedite return of surplus funds to shareholders, particularly in the context of group restructuring;
INSURANCE SECTOR RESTRUCTURING
We were appointed as Administrator, on the petition of the Central Bank, of ESG Reinsurance Ireland and Accent Europe Insurance Company to conduct an orderly run-off of the insurance portfolios, resulting in a successful resolution without recourse to the Insurance Compensation Fund.
We also acted as Liquidator of Dublin International Reinsurance and United Reinsurance Company of Ireland making significant recovery for creditors.
Run-off management
Assistance with portfolio transfers
Investigation, formulation and negotiation of insurance claims
Commutations with reinsurers
Reconstruction of insurer records
SCHEMES OF ARRANGEMENT
In certain circumstances, a formal or informal scheme of arrangement may be the most efficient rescue procedure. We acted as Scheme Manager under a Section 201 Scheme of Arrangement of Millstream Recycling Limited, following its closure as a result of the pork dioxin crisis. We rescued the business by devising a scheme to deal with liabilities in excess of €150m.
PERSONAL INSOLVENCY SOLUTIONS
We assist individuals with financial difficulties to resolve their debt burden and return to solvency.
Where possible we will work with the individual in negotiating an informal arrangement with his/her creditors.
In the event that an informal arrangement is not attainable, we can provide the services of a licensed Personal Insolvency Practitioner (PIP) to advise on the most appropriate option available under the personal insolvency regime including:
Personal Insolvency Arrangements
Debt Settlement Arrangements
Bankruptcy